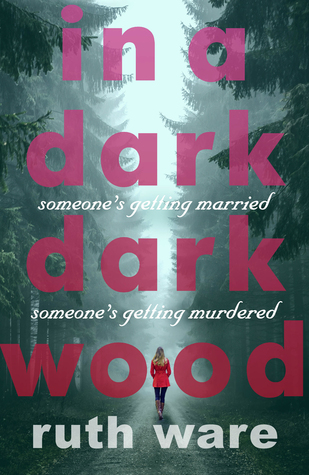 2 Stars
I read this book because The Guardian put it on its latest "best recent crime fiction novels" roundup. I can't imagine this is one of the best!
The novel begins with Leonora Shaw (Lee or Nora or Leo) regaining consciousness in a hospital after an accident. In a series of flashbacks we learn about the events leading up to it: her receiving an email inviting her to a weekend bachelorette party for Clare Cavendish. Clare was Nora's best friend in school, but Nora cut all contact and hasn't spoken to her in ten years. She chooses to attend though she keeps wondering why she was invited. Nora remembers the party except for things that happened the second night at the remote house deep in the woods chosen for the venue.
The plot is very predictable. The villain in the piece is easily identifiable and even the motive can be surmised. The novel is very contrived: ten years of misery could have been avoided with one conversation, the post-accident amnesia seems just too convenient, and Nora's withholding the reason for her break with her past is just a way of manipulating the reader. Keeping secrets from the reader is not usually a sign of narrative finesse.
The characters are flat. Each of the guests has one distinguishing trait. For example, Flo is devoted to Clare; Nina is blunt; and Melanie is worried about being away from her infant son. Those identifying characteristics are given when the characters first appear, and nothing else is ever added.
Leonora is a problematic character. By profession she is a crime fiction novelist, yet her behaviour suggests she knows nothing about what she shouldn't do: try to evade the police and revisit the scene of the crime. Certainly the encounter at the scene of the crime is totally unbelievable.
The title is misleading. It suggests that the novel will have an eerie atmosphere, but it really doesn't. Actually, the novel has very little to recommend it.